eMobility Plaza is the unique space where you will be able to experience the most innovative sustainable mobility. Best of all, we won't have one eMobility Plaza, but two!
Specifically, an outdoor space where the most disruptive innovations in the sustainable mobility sector will welcome us to the eMobility Expo World Congress and on the other hand, an indoor space in the centre of the exhibition area that will dynamize the central space.
Get ready to see transport systems fly, such as drones or other prototype delivery systems. As well as the latest eTransport models to meet your fleet needs, among other services that you can't miss! Soak up the future in the two eMobility Plazas to solve your present needs.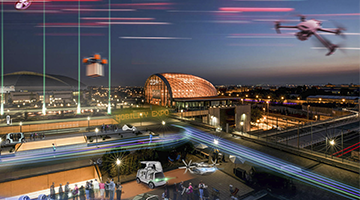 You will be surprised at the eMobility Expo World Congress before you even enter the venue. Find the first outdoor eMobility Plaza as soon as you arrive, where you will be able to see among other things:
Drones
eTransport vehicles
Flying delivery systems
Charging stations
Urban mobility solutions
Light signals
And much more!
Once inside the venue you will find the exhibition area with companies showcasing sustainable mobility solutions. In the centre of this area you will discover the second eMobility Plaza, a platform dedicated to display many other sustainable mobility innovations. This plaza offers a different experience with other surprises inside:
eCity Corner: micro mobility solutions inside
eGarage: Discover a new sustainable vehicle
eForum: Find the most interesting keynotes and debates about the sustainable mobility
Smart Port: New ideas for vessels are here
Energy Corner: The impact of the sustainable energy will be discussed here
And much more!